Our home in Hong Kong
Learn more about arrivals, departures, and transits through Hong Kong International Airport, as well as connecting to Pearl River Delta.
Departure from Hong Kong
We recommend arriving at the airport two hours in advance of your flight to give you sufficient time to check in, go through security and get to your gate. Meanwhile, there are a number of different ways that you can check in.
In-town check-in
If you're taking the Airport Express (AEL) to Hong Kong International Airport, you can take advantage of our in-town check-in facilities at either Hong Kong or Kowloon Airport Express/MTR stations.
Check in and collect your boarding pass as early as one day in advance (any time the counter is open on the day previous to your flight) or as late as 90 minutes before departure.
Also note that wheelchair service and service for unaccompanied minors (UM) are available at in-town check-in stations.
The maximum size of check-in bag that can be accepted at Hong Kong or Kowloon MTR stations is 145 x 100 x 85 cm.
Opening hours:
5.30am to 90 minutes before the last scheduled flight departure time that day. To find out more about flight schedules and in-town check-in services, please call our reservations office or visit the MTR website, Link opens in a new window operated by external parties and may not conform to the same accessibility policies as Cathay Pacific.
Hong Kong in-town check in station
Hong Kong MTR
Harbour View Street
Central, Hong Kong
Kowloon in-town check-in station
Kowloon MTR
Nga Cheung Road
Jordan, Kowloon
Additional check-in notes
To check in for codeshare flights at In-Town Check-In, passengers should proceed to the operating carrier's counters for assistance.
To comply with the requirements from the US Transportation Security Administration (TSA), we cannot issue a boarding pass to a passenger departing for US destination more than 24 hours prior to scheduled flight departure time.
Online check-in
Save time by checking in for your Cathay Pacific or Cathay Dragon flight using one of the following channels:
On your mobile
Via the Cathay Pacific app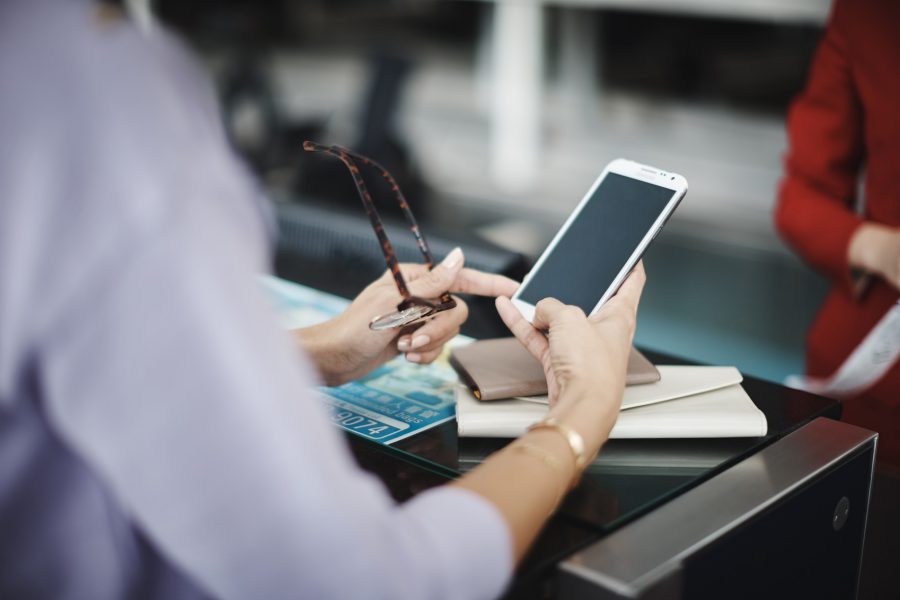 At the airport
Located on level 7, we're here to assist you and fetch your boarding pass. You'll find us on the same level where you arrive at the airport, by train or bus. There are a variety of self-check-in kiosks too.
Baggage trolleys are freely available, and you only need to take a short walk before reaching our check in counters in areas B and C of the check in hall.
Opening hours:
5:30am until -40 minutes before last scheduled flight departure.
First Class Check-in
Our First Class passengers can now experience Cathay Pacific's new and improved First Class services at the Hong Kong International Airport, where a total of ten new dedicated check-in podiums can be accessed.
The redesigned check-in podiums incorporate the latest in computer and flat screen technology, ensuring that every check-in is as smooth and efficient as possible. Your personal check-in screen allows you to access estimated departure and arrival times, boarding gate numbers, the weather at your next destination and other important flight information, as well as your Club miles and Asia Miles balance.
First Class: Aisle B
Business Class Check-in
Business Class passengers now have their own special check-in area which can be found on Aisle B.
Premium Economy Class Check-in
Premium Economy Class: Aisle C
Economy Class Check-in
We've introduced the single queue concept so that you can enjoy quicker, hassle-free check-in service.
Economy Class: Aisle C
Note:
In compliance with the requirements from Hong Kong Civil Aviation, Cathay Pacific and Cathay Dragon will implement a full reconciliation of passenger travel document check at the boarding gate of Hong Kong International Airport, by comparing the name on the passenger's boarding pass with the name in the travel document, and by comparing the photograph in the document with the passenger.
Self-service bag drop
Save time at the Hong Kong airport when you use our designated bag drop machines, located at aisle C for Cathay Pacific passengers, and aisle H for Cathay Dragon passengers.
Shenzhen International Airport
You can check in and have your boarding pass issued at Shenzhen International Airport (SZIA) for flights departing from Hong Kong, before taking cross-boundary land transport to Hong Kong International Airport.
Upon arrival at the airport in Hong Kong, if you have baggage to check in, you can go to the Self Check-In Bag Drop Counter. Without check-in baggage, you can proceed straight through to Immigration, speeding up the process of getting to your flight.
Passengers departing from Shenzhen will need to arrive at SZIA at least 180 minutes before the scheduled departure time of their flight at Hong Kong International Airport.