COVID-19 Vaccination Free Air Tickets Lucky Draw tickets redemption details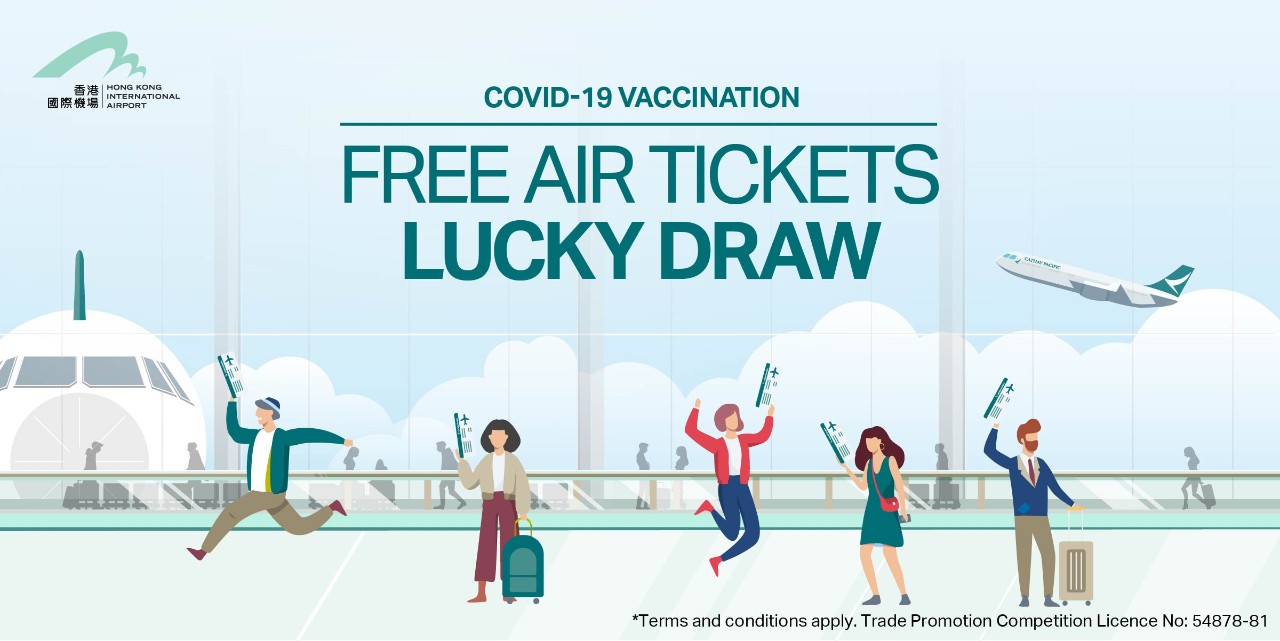 COVID-19 Vaccination Free Air Tickets Lucky Draw tickets redemption details
Latest update for our free flight ticket winners (as of 17 November)
We've extended the ticket redemption period until 10 December 2022.
With the removal of mandatory hotel quarantine and the introduction of the "0+3" quarantine scheme in Hong Kong, we sent out the free flight ticket redemption codes and online booking process* in October 2022 to majority of our winners based on the destinations we're flying to and their existing (if any) quarantine restrictions.
View the winner list of the lucky draw here.  Each individual winner will be contacted via the email address provided upon registration.  For further details, view the full terms and conditions.
Please continue to refer to the list below to view the latest group of destinations we'll be sharing updates on soon.
Stay tuned and get ready to book your exciting winner's getaway.
* Your prize ticket can only be claimed online via the designated redemption page as directly shared on the ticket redemption email.
Prize ticket redemption schedule^

From 20 October 2022
From 24 October 2022
In preparation - stay tuned
Amsterdam (AMS)
Bangkok (BKK)
Beijing (PEK)
Auckland (AKL)
Boston (BOS)
Chengdu (CTU)
Cebu (CEB)
Brisbane (BNE)
Chicago (ORD)
Dubai (DXB)
Denpasar, Bali (DPS)
Chongqing (CKG)
Frankfurt (FRA)
Fukuoka (FUK)
Colombo (CMB)
Hanoi (HAN) 
Los Angeles (LAX)
Fuzhou (FOC)
Ho Chi Minh City (SGN)
Melbourne (MEL)
Hangzhou (HGH)
Kathmandu (KTM)
New York (JFK)
Johannesburg (JNB)
Kuala Lumpur (KUL)
Penang (PEN)
Kaohsiung (KHH)
London (LHR)
Perth (PER)
Nagoya (NGO)
Madrid (MAD)
San Francisco (SFO)
Nanjing (NKG)
Manchester (MAN)
Seoul (ICN)
Phuket (HKT)
Milan (MXP)
Singapore (SIN)
Qingdao (TAO)
Osaka (KIX)
Sydney (SYD)
Shanghai, Pudong (PVG)
Paris (CDG)
Tel Aviv (TLV)
Taipei (TPE)
Phnom Penh (PNH)
Zurich (ZRH)
Xiamen (XMN)
Sapporo (CTS)
 
 
Tokyo (NRT)
Toronto (YYZ)
Vancouver (YVR)
^Ticket redemption codes must be used on or before 10 December 2022